Music Blogging , Music Talk
How To Get 300,000 Spotify Streams A Month
How To Sustain 300,000 Spotify Streams A Month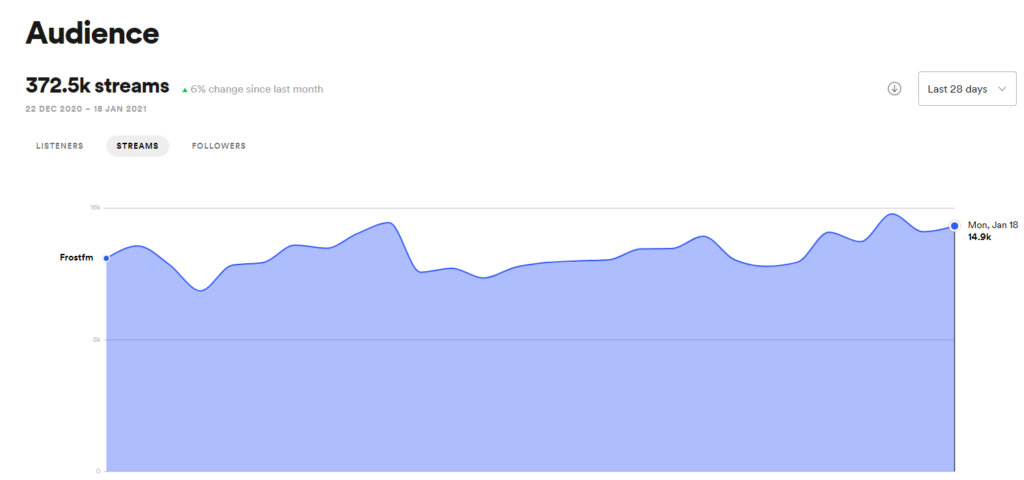 Alright: in this article, I'm basically going to go over a few ways I got myself to sustaining 350K+ streams a month. If you are still on the fence about joining a publisher/making spotify, let this ease your tensions. And, if you want to help me out, use my referral code if you decide to get a distrokid account so you can start getting these results too.
Distrokid Referral: https://distrokid.com/vip/seven/1498084
Compound Interest Through Consistency
Yes, yes, yes. You've heard it a thousand times: be consistent on your tracks. Do you want to know the reason behind that? Compound interest. The more tracks you have, the more chances you have to be shown and otherwise have tracks that pop off. Consider yourself as an investment: every time that you go through the process of uploading a song, you are adding more value to your stock. Spotify sees this, notices you are helping to sustain traffic to their platform and they want to keep promoting you because you have shown you are a safe asset to invest in. People get it twisted in the sense that they need to be uploading just for the sake of uploading when there is a bigger logic behind it if you have a game plan.
Use Your Other Social Media To Accelerate Your Spotify Growth
This is one of the most powerful things you can do to boost your Spotify profile. If you want to actually gain traffic and get boosted in the algorithm, I've noticed Spotify really enjoys when you bring external traffic to the site. So I'd be putting it in your youtube friends, Twitter videos/posts, having your friends share your link, and do whatever you can to promote it on your social media even leading up to the release so that you get the most traffic possible. Therefore, this makes you a greater asset in the eyes of Spotify if you are able to make quality content that people repeat from external sources as you are not only bringing people, but are making them stay and explore the site. So make sure your content is actually good enough to make them stay.
Series Playlist
Just like on youtube, playlist matters. A lot of people go the route of wanting to get featured on other people's playlists, but I prefer to make my own. Why? Well, if you have a track that gains traction, people are going to want more of that thing. So it naturally makes sense they will binge watch it and create a content chain. Combine this with having good quality art, linking people from external sources and the compound interest from your consistency; and it's only a matter of time with the right amount of work that your spotify will take off. You can even feature them in your artist profile through your artist pick in your spotify for artist link that you get through discord.

All you have to do is first go to the top menu bar in distrokid.

Then scroll down to the bottom and select streaming service goodies

After that, click your Spotify for artist profile and go through the process of setting it up.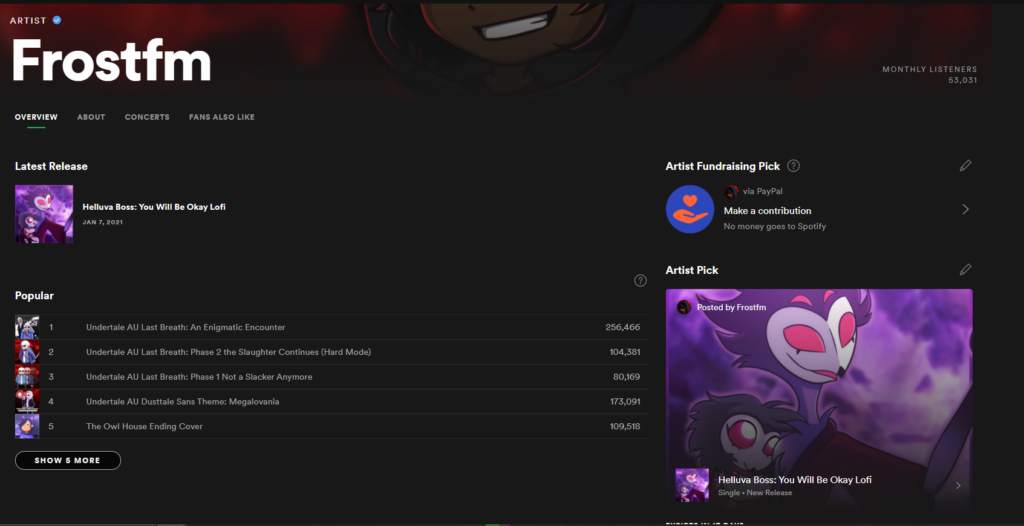 Then you'll be taken to your Spotify profile, and on that top bar where you see "home", you want to click "profile".
And lastly, you can then scroll through/type in your track and upload the cover art you want as your artist pick.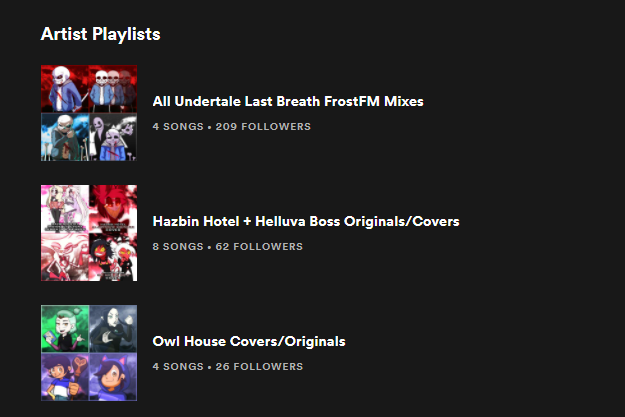 Additionally, if you scroll down to the bottom, you can also add in your own artist playlist if you have the direct spotify playlist. You can even host other people's playlists if they have your music or you want to feature people.
Bio Description + Art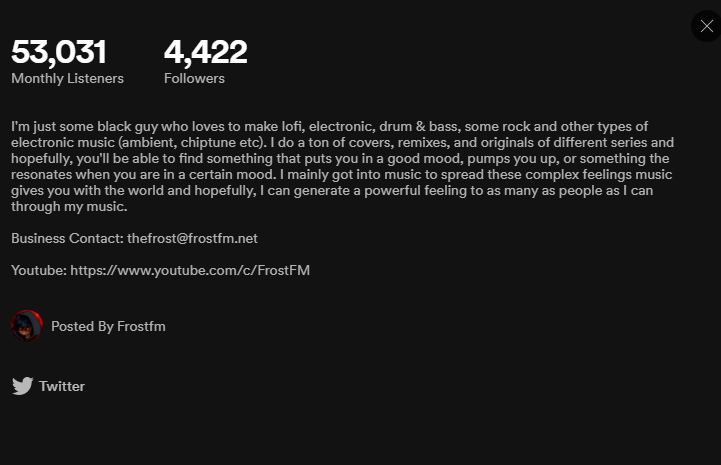 Spotify likes it when you have something professional up there, along with people who may glance at your bio. In it, I would recommend telling them a little bit about who you are, what you do and the different types of songs you cover. By doing this, you can better help Spotify determine where you fit and other people who come across your profile. Not to mention it's good for business as you can attract potential clients by leaving your business email and a way to be contact through it.
How To Access Your Bio To Edit It
You can access it by going to your Spotify artist profile, clicking on "profile" and then going to "About" and clicking on the pencils to start filling in your information like in the screenshot below.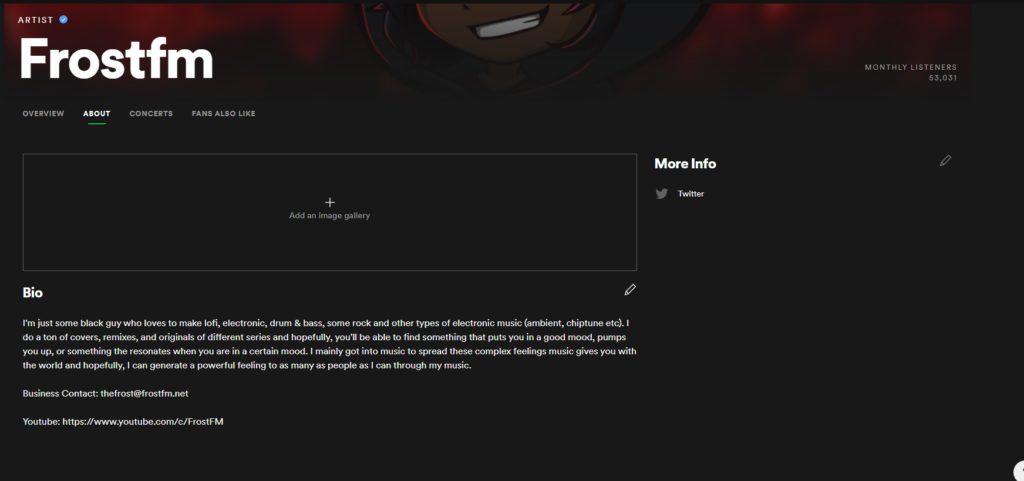 Cover Art
I've said this again and again, but having good cover art goes a long way on Spotify. People want something nice they can look at or click on, so investing in someone to draw for you or produce good graphic designs is a worthwhile investment if you want to stay in this for the long-term and increase your odds of gaining consistent traffic. This is what worked for me because I often target shows/series/games/anime/ that I like and I make sure the popular characters in them are present in my cover art, I add colors that pop in my cover art, I saturate my images and my strategy seems to produce results. This might not work for you, but it is still worth having a consistent aesthetic or something to make people want to click. In my case, I found having people/characters work the best.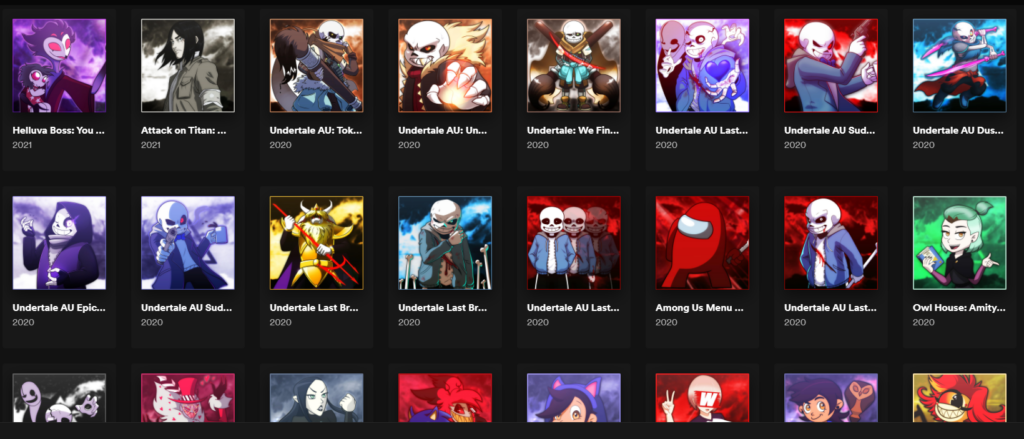 Think Long-Term When It Comes To Your Profile
I do advise hopping on trends when you can as that is a decent way to bring new faces to your profile and have them stay if you have a body of high-quality work, playlist for them to binge and they know what you are about. However, I recommend content that will keep getting oyu plays for years rather than in the moment. For me personally, I achieved this by thinking of series that I like that will get plays for years to come. So, since I liked Owl House, I figured being the first to make an opening/ending cover for it was a good investment because I see that series sticking around for the next 1-10 years because of the interest it's the community has, the popularity it was gaining and just observing it on google trends.
So, for me, it's all a long-term game. Do not be disappointed if you do not get 100,000k streams on the first day. Give Spotify 2-4 weeks to generate the data on your profile from the listeners that indulge in your content. Then, over the next few months, it spikes and grows. And when you have enough tracks, these effects just amplify and double until your profile becomes a monster of an army to deal with. And to show I'm not full of crap, just look at this screenshot.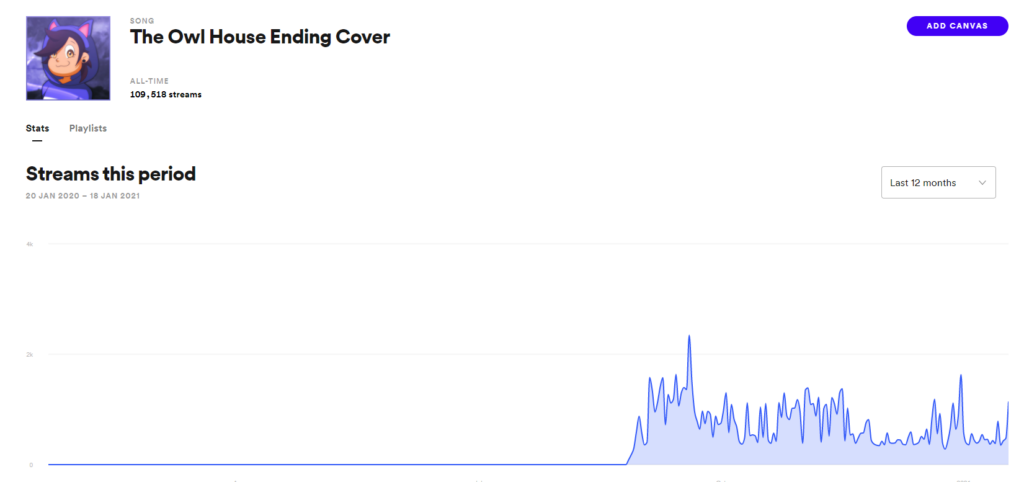 Furthermore, I want to also make you reflect on realistically doing something you can sustain. Thinking long-term takes into account what your passions are for music and what you are trying to achieve with your sound. If you know what you like, know how to work efficiently and don't tire of music; then you are going to have great success in the long term as you do not want to keep doing this and just uploading to appease an algorithm. It is a needed evil, but if you don't love your craft, you will produce sub-par results and burn out.
What Is The Takeaway From All Of This?
You need to think of this as a marathon. You are NOT going to get these results overnight, but by having a sense of direction and plan, you can endure the highs and lows that come with maintaining a presence on Spotify throughout the next 3-14 months in order to grow your presence. Think of it like you are going to war, are gaining the supplies you need, and are building a powerful foundation to make your army a force to be trifled with. These tips are just tools to ad to your arsenal to make that goal you have a reality.
And that's all I have for you today.